A continuous positive airway pressure (CPAP) equipment is often used to treat sleep apnea, which affects millions of Australians. Many individuals believe that since a CPAP mask is too big for them to comfortably sleep on their side or stomach when using CPAP treatment, CPAP users must always sleep on their backs.
There are several different types of CPAP masks, some of which are thicker than others. While some CPAP users must use a certain kind of mask, others are free to choose a mask based on their preferred sleeping position.
Be sure to follow your sleep specialist's advice while choosing cpap masks. Before altering mask types, talk to them to see whether your selected option would be a good fit for you. Each kind of mask has a specific shape that serves a certain function, and not all mask types are appropriate for all CPAP mask users.
Which CPAP Mask Works Best for Your Sleep Position?
The three kinds of CPAP masks that are most often used are full-face, nasal, and nasal pillow masks. Full-face masks are the bulkiest choice since they also cover the lips, unlike nasal masks which just cover the nose. Nasal pillow masks, which just cover the nostrils and have no hard shell, are the least obtrusive masks.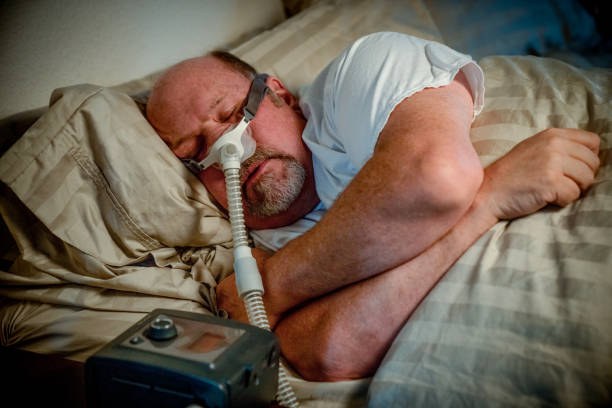 In addition to being uncomfortable, sleeping with your CPAP mask pressed against your face may lessen the efficiency of your treatment.
To stop air leaking, CPAP masks need to be well sealed. A CPAP mask's headgear may also interfere with sleep, particularly if it features abrasive plastic buckles or inflexible anchor straps.
When choosing a CPAP mask, you should consider the mask's footprint, including its length, width, and depth, as well as where the headgear will rest on your face. The goal is to discover a mask that is both useful and comfortable for sleeping.
See also: Is it good to wash CPAP masks in a dishwasher?
Masks for side sleepers using CPAP
On your side, which prevents gravity from impacting your airway the way it does when you're on your back or stomach, is one of the best sleeping positions for treating sleep apnea. Unfortunately, finding the appropriate CPAP mask may be difficult for side sleepers.
Because they are so high above the cushion, nasal pillow masks are a great choice for side sleepers who can manage them. Nasal pillow masks often retain their seal even in instances when some side sleepers may lean their faces toward the cushion.
Nasal CPAP masks, which partly or totally surround the nose, are another option that is effective for many side sleepers. The best styles include soft, movable headgear and excellent sealing.
However, because these characteristics don't do much to halt air leakage, side sleepers may still need a CPAP-friendly cushion to support the thickness of even a nasal mask.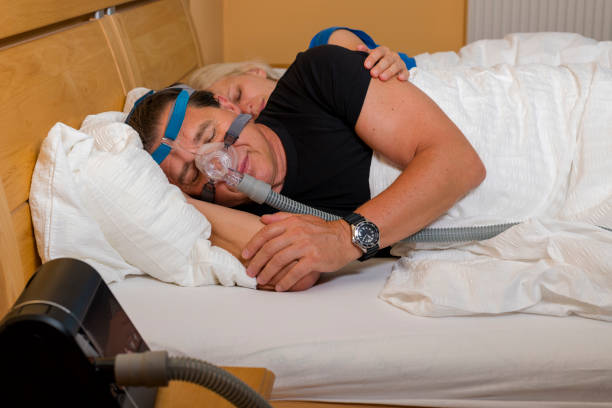 CPAP masks for back sleepers using
Since even full-face masks fit well in this position, back sleepers using CPAP masks have access to a broad variety of mask choices. Even though lying on your back while using a CPAP mask may be optimal, gravity might cause the airways to collapse.
If your doctor is aware that you sleep on your back and has not suggested that you alter positions, you will likely feel at peace wearing any mask that is effective and fits your other requirements. Even while some back sleepers have trouble wearing single-strap headgear, the position also makes it more difficult to take off your mask. For stomach sleepers, CPAP masks
Stomach sleeping is the least frequent sleeping position, and those who do so must take particular care while choosing a CPAP mask. Due to their positioning, the majority of masks press into the face, which is unpleasant and often causes air leakage. 
Depending on the size of your mask, your head may be pushed into a position that strains your neck and may cause pain or stiffness the next day.
Most people can only use a nasal pillow mask when sleeping on their stomachs for these reasons. Nose pillows are ideal for this because of their low profile; regardless of how you sleep, they won't likely get unpleasant or dislodge.
Check that your actual pillows can accommodate the mask, even if you use a nasal pillow mask. Some masks also include tubes around the temples, which might cause air blockage depending on your sleeping position and the firmness of your pillow.
Some adverse effects have been reported by CPAP mask users.
Dry nose: Positive airway pressure from nasal masks may dry up the nose and irritate users. It may be easier to endure CPAP therapy if you use a humidifier to lessen air resistance via your nose.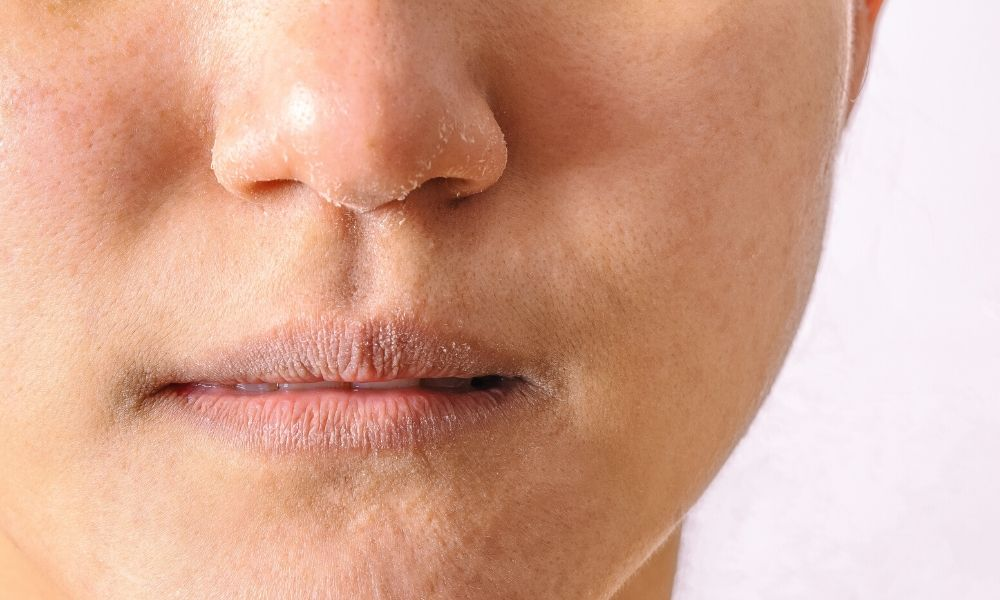 Congestion: Starting CPAP treatment may result in nasal congestion, which may make it challenging for air to flow through. This is similar to dry nose. To deal with this issue, some drugs or switching to an oronasal mask may be beneficial.
Pressure ulcers: Wounds that may form when the CPAP masks come into contact with the bony parts of the nose, mouth, or face are known as pressure ulcers or injuries. They serve as a warning that the mask doesn't fit correctly.
Claustrophobia: Some individuals experience anxiety while wearing a mask because they are afraid of being in small areas. For certain people, a nasal-pillow mask would be a better option. Claustrophobia sufferers could also wish to use the mask for a little duration at initially, then gradually extend their use of it.
Facial markings: The majority of masks' included headgear may leave unsightly marks on the face and often messes with hairstyles. When creating new goods, certain mask makers have taken this into consideration.
Trouble tolerating pressure: Some individuals find it uncomfortable to exhale when the CPAP machine is set to a certain pressure. Working with a doctor to modify pressure settings and make other comfort-enhancing changes can help alleviate this issue.
Mask Adjustment
Standard sizes for commercial CPAP masks include small, medium, and large. Unfortunately, masks often fail to take into consideration each person's particular face traits. The mask may often be customized with additional accessories or features.
Finding a mask that fits well and creates a good seal is essential for CPAP treatment to be as successful as possible. Once you locate a mask that seals properly, you may work with your physician to make further modifications to the mask's fit so that it is more comfortable.
The Best Mask to Buy
Current studies are examining whether specific individual traits, including as age, sex, body size, and face and nose shapes, might affect the sort of mask that should be used.
There are several inquiries that may be useful to think about in choosing your mask while you consult with your healthcare practitioner and go through your options:
Do you have facial hair?
When you sleep, do you mostly breathe via your mouth?
Do you switch up your sleeping positions?
Do you have a claustrophobia?
What do you usually do before going to bed?
Does your spouse and you value physical closeness before bed?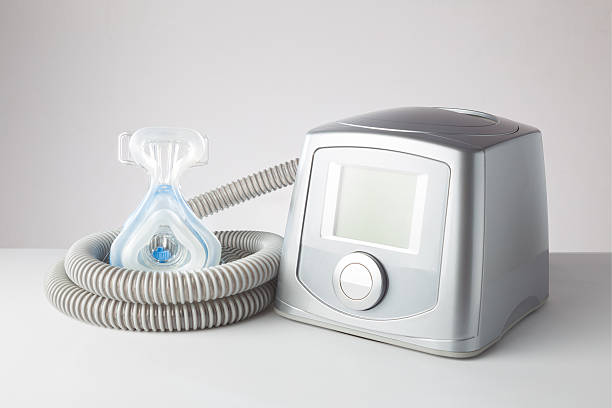 Where can I get CPAP masks?
CPAP masks also require a prescription, much as CPAP machines. Despite this, there are several locations where you may get a CPAP mask. A prescription is still required by online merchants, and this prescription is often validated by having you upload or fax it to the store. As soon as your prescription is approved, you may make your purchase.
Although physical medical supply shops are also popular options and often more practical if you need a mask right now, the best CPAP machines and masks are frequently accessible through internet suppliers.
Finally, a lot of sleep clinics and professionals provide a tiny range of CPAP masks for sale. Purchasing via your sleep specialist allows them to better oversee your treatment, despite their charges often being greater.
Utilizing a CPAP Pillow to Enhance Mask Fit
You should pick your CPAP masks depending on the advice of your sleep doctor since not all CPAP users can successfully use all CPAP mask designs. If the mask you must wear hinders you from sleeping in your preferred position, a CPAP cushion can be the answer.
These cushions are more shaped than a conventional pillow to support masks, particularly heavier ones, even when you sleep on your side. Depending on the kind, they could also provide greater cervical support to stop neck strain or mask dislodging.
Final thoughts
A continuous positive airway pressure (CPAP) equipment is often used to treat sleep apnea, which affects millions of Australians. Many individuals believe that CPAP users must sleep on their backs because a mask is too big for them to comfortably do so while undergoing treatment with a CPAP mask.
There are several different types of CPAP masks, some of which are thicker than others. While some CPAP masks users must use a certain kind of mask, others are free to choose a mask based on their preferred sleeping position.